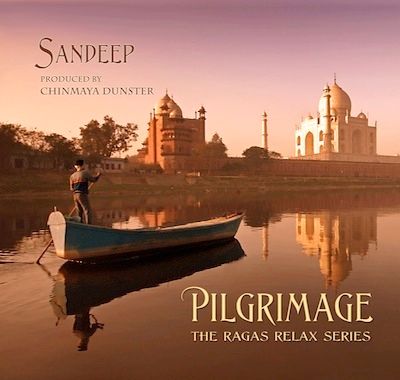 With "Pilgrimage" Malimba Records adds a new gem to its Ragas Relax Series, continuing its mission of introducing western audiences to a more soothing and healing-oriented version of Indian classical music. 
On this CD the listener is invited to join Sandeep on a pilgrimage amongst eight ragas, effortlessly exploring the mood and atmosphere of each raga. Sandeep's resonant voice soothes and seduces, as haunting bamboo flute and a richly textured background provide a gentle soundscape ideal for relaxation, meditation, restorative yoga and the healing arts. 
Sangeet is singing both in Hindustani language and in what is known as "Tarana" - a non-lexical style of singing specific syllables (believed to derive from Persian language) frequently used in Indian classical music.  
Pt. Kumar Gandharva, one of the remarkable Hindustani classical vocalist of this century described Tarana in following words, "When in singing everything has been sung before, and the feeling of inadequacy still persist, then the musical form tarana satisfies your quest." 
"A Pilgimage is a sacred journey of discovery. It is a great mystery… these ancient ragas are not just rules of how to play the twelve musical notes, they are spiritual places to be visited."  
- Chinmaya Dunster