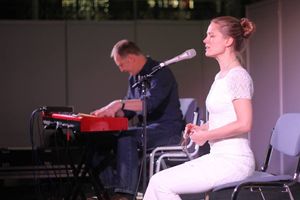 From an early age Sudha was curious about the mysteries of Life. She started her journey of discovery even before her teen years, as she explored inner and outer worlds through the path of performing arts. In the three decades following she has traveled to many places around the world gathering inspiration and wisdom from many diverse cultures and traditions. In Hawaii she fell in love with the ancient story telling style of the Hula, and in India with the deep wisdom of Sanskrit mantras. Sudha has lived in an Osho commune in Amsterdam and later in the ancient British centre of pilgrimage, Glastonbury - as well as the hustle and bustle of London and the rolling hills of rural Ireland. She has worked with the guidance of indigenous plant medicine from the Amazon, has been initiated to give Divine Energy Transmission, known as Deeksha, in India and worked extensively with women's circles globally. All the many paths having one common thread, Connection. The longing for a deep connection to Source, to others and to our inner Truth. This is what she endeavours to share in her concerts through the power of music and silence. 
"Sudha's voice, the innocent sound of pure love...will soothe your soul and caress your spirit"
- Deva Premal   
Click HERE to read an interview with Sudha
In Her Name by Sudha • MB 4612

Following the success of her best-seller Sharanam, Sudha offers a new captivating album of sacred chants, dedicated to the embodiment of the divine feminine.
In this album her pristine vocals can be heard soaring through the seven tracks tastefully produced in cooperation with German fusion/world musician Praful.
All tracks are featuring chants from different cultures of the world - with a predominance of India. An abundance of acoustic instruments like spanish guitar, bamboo flute, piano and tabla as well as ethereal ambient sounds warmly complement the heartfelt and refined vocal performance.

• Read reviews of album at the bottom of the page