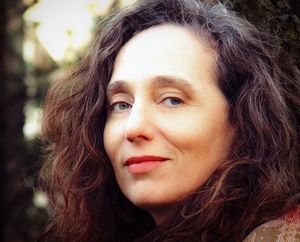 - How did you become interested in music and in shamanism?
After I completed my acting degree at the Mozarteum in Salzburg (Austria), I was under contract with the Stadttheater Aachen in Germany for four years. At that time, I already began to feel a strong desire to make music that would have a positive influence on myself as well as on my audience.
I had received a sound musical education at the Mozarteum and at the Orff-Institute when I was a child. Thus, I was returning to my roots when I gave up my acting career and turned to music. I played and sang in bands and was very excited about world music, which was only found in hard-to-find specialty stores at that time.
I wanted to do more than simply convey my messages, I wanted to embody them. So I began devoting a large part of my time to personal development training. I took part in self-awareness seminars and meditation groups and found inspiration in these experiences. Rebirthing, Energy Work in the Rhea Powers method, diverse meditations, sage experience, firewalking and many more flowed into my work. I paid for it all by doing commercial voiceover—which was at times a pronounced contrast but it helped me to stay grounded and in touch with the "real world".
In the 90s, together with a group of shamans, I began to make recordings of sound meditations, shamanic journeys and healings. We improvised with singing bowls, drums, rattles, bells and gongs. Some of the original material from back then has been woven into the music of Nanda Re.
In the year 2000, I became a mother. My husband and I opened a recording studio for music and advertisement in Vienna. After he fell ill with cancer in 2013 and since his death the following year, I have been fortunate to be able to continue our work successfully alone.
What is the importance of shamanism for Nanda Re?
For me it's less about traditional shamanism, which regardless of culture, immediately signifies both a religion and a particular world view.
I prefer to follow the principle, "everything is vibration".
A Shaman is in my opinion a mediator, a bridge between the worlds – between the visible and the invisible—independently of whether one believes, for example in rebirth or not. It is possible to be effective in both directions because everything is made out of the same "fabric", namely energy.
During the several years I practiced shamanism, I was mainly interested in my own spiritual growth and in learning to grasp life's complexities. This was in order to become a more fulfilled person on the one hand and to be able to include these qualities in my artistic expression on the other. Sounds derived from my personal shamanistic experiences are reflected in the music of
NANDA RE.You talk about occasionally falling into a state of trance during your production sessions. Is your music channeled?
Although I sometimes don't really know where my ideas are coming from, I wouldn't go so far as to make that claim. Every artist has their source of inspiration. For me it's more like immersing myself in a "big pool", sometimes with a particular intention in mind and other times completely spontaneously. All creative ideas are stored in this pool and everyone is welcome to draw from them.
Has the effect of the music been proven?
 There has been a lot of literature written about the effect that music and certain notes in particular can have on people and some interesting research projects have been conducted within the healthcare sector over the course of time.   Although the individual approaches are different, the results of the studies are always the same: music is vibration and every vibration has its respective effect, although the individual perception is different and it is experienced in varied intensity.
As I began involving myself in this subject matter back in the 90s, it was still considered to be something very "exotic". Since then, a lot more has become known about it, particularly with regard to music in the context of esoteric effectiveness. My music has been used by seminar leaders and energy-workers—and I've received astonishing feedback.
You recently released a new CD titled SHAMAN EARTH DANCE under the name NANDA RE.  What is the meaning of NANDA RE?
Nanda
is an Indian name, meaning joy.
Re
stems from the name of the Egyptian sun god, Ra.
NANDA RE
can best be translated as "radiant joy". This is, in my opinion, the natural state of human beings. It's what I'm striving for as an artist and as a person. And this should also be my gift to others.
This is your second release with Malimba Records following BODY HEALING and it is already your fifth CD produced in Europe. What kind of music is NANDA RE? How would you describe your audience?
NANDA RE's music can be categorized as "functional music".
SHAMAN
EARTH DANCE,
for example, has been composed in a way which can connect listeners with the Earth's elements and activate the Earth's qualities within them.
People may choose to immerse themselves completely in the music and work with it—for example during moving meditation or dance, inner journeys or wellness treatments, during energy work, in seminars, in professional practices or at home. It is just as possible to let the music play quietly as background music, setting a certain mood for working, for your place of business or in the car.
Can you talk about your personal creative process?  
Before I begin composing, I conduct research to find out which tones and intervals fit to the particular theme at hand. It is possible to octave-transpose the vibrations of a planet until sounds are created within the human audible range, (the planet can be "heard"). It is just as possible to "see" the planet, if the vibrations are further octave-transposed. The resulting vibrations become colors and electromagnetic resonances, which are comprised of the same qualities as the planet.
Classical music pieces can also be attributed with a certain quality and effect. Every musician knows, whether he applies it consciously or subconsciously:
 A song might not "work" / or have the right effect in a certain key, but once it is transposed a semitone higher, for example, it suddenly conveys the desired emotional atmosphere.
During my research, I play various sounds and ranges of tones, taking them all in. Only then do I begin composing the piece of music, during which energy-work comes into play. I sense what is missing; when balance, grounding, or contact to the internal vision is needed and what it takes to establish a connection with the desired quality. One important aspect is the intention with which each instrument is played. Especially when using voice: I either insert it very purposely or intentionally keep in the background.
In addition, I look for mantras from various traditions that fit well to the theme I'm working with, which I then improvise on in extended recording sessions in the studio. During the process, I sometimes fall into a state of trance and have the feeling of becoming a different person.
After I've fully explored the functionality of the music and established its direction, the rest is completely intuitive and associative, allowing my personal taste to play its role. I like simple harmonies in combination with rapid, multifaceted cadences; the sound spectrum is very broad, thanks to the significant technical possibilities. I deliberately use acoustic and digital sound in balanced proportions. 
How would you describe SHAMAN EARTH DANCE?
Shaman Earth Dance
is my ode to our planet, a ritual in honor of the Earth's energies. That's why it is both dynamic and introverted and rhythmic yet flowing. It also reflects influences from world-music with multilayered walls of sound – harmonic, orchestral, shamanic, earthy…
Whether dancing to the music or journeying within, letting the music gently wash over oneself or consciously internalizing it, it establishes a connection with the Earth and generates the respective qualities within us. 
Has this been the purpose of your music since you began composing?
Yes. In contrast to letting compositional ideas spontaneously evolve, I chose a more rigorous approach, deciding to create, analogous to program music in the classical realm, music that would ground the listener and vitalize a connection with our planet.
I proceeded systematically, choosing the root of C or C-sharp, the tone of planet Earth, as a basis. It vibrates throughout the CD in the sounds of a didgeridoo, violins or a synthesizer.
On an energetic level, I examined what a person is lacking when they aren't grounded and which internal processes can be used to develop a connection with the Earth. Thus, the CD offers one the possibility to go through a metamorphosis, in the form of "dynamic Earth-meditation".    
How do other musicians react to your music?
Musicians from other genres are the toughest critics. During recording and production sessions in my studio, many top-class musicians have been my guests and I often receive very nice feedback. When renowned jazz musicians enjoy listening to NANDA RE CDs and are deeply moved, I feel very honored. 
So what's next for Nanda Re?
More live performances…Together with a conductor, I'm in the process of writing a score for
"Earth Spirit
" for orchestra and choir. I believe that this harmonically simple, yet tonally complex music is very fitting for classical music concerts. To be performed perhaps on the occasion of events celebrating religious freedom or racial tolerance.
NANDA RE Music is also well suited as a basis for live improvisation. I have already had a wonderful experience with "Fire-walk" on a large open-air stage during a festival in southern Austria. The experimental violinist,
Ananta Fiddlehooper
improvised to the original music, in interaction with my additional song and dance – a very fiery performance.
I'm also open for very modern remixes in the direction of Pop.
A growing number of people are taking interest in "hidden knowledge", the literal meaning of esotericism. There is a growing readiness to look at the bigger picture.
Click here for more info on Nanda Re