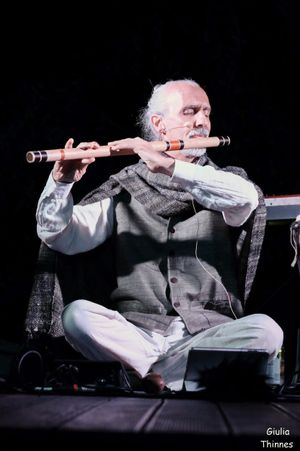 Shastro is a multi-instrumentalist, born in Italy. The development of his unique musical style evolved over many years during his frequent visits to other countries such as Spain, Turkey, Africa, South America and India. These journeys were inspired by a spiritual search that led him to experience meditation in India and creating music for various meditation techniques. His music can best be described as relaxed world music. He performs on Spanish guitar, Indian Bansuri flute, Clarinet, African Kora harp, Indian Dilruba, Native American flutes and other ethnic instruments all with equal ease and beauty, integrating sometime ancient instruments into a compelling contemporary sound. Shastro specializes in music to drift away on - even his upbeat titles exude this relaxed soothing effect.
Shastro is the president of Malimba Records that he founded in 1997 to help distribute his music as well as the music of several other musicians and friends.
At present he has created 17 albums for the label's catalog  -see below. Only his very first recording is not in the catalog: the music for the popular Osho No Dimension Meditation (read the story of the creation HERE).
 
 Shastro on FACEBOOK 
Articles by Shastro: 
Sound, Silence and the exploration of Consciousness
  "To me Shastro represents the epitome of New Age Artists. His music is so gentle, sweet, and filled with light that to hear it is to smile and take a deep breath, no matter how tense and nervous you might be."
- Steve Ryals, music reviewer

"Shastro has proven himself as one of the more versatile performers in the realm of world fusion music - an artist who never fails to surprise and enchant with every sound-scape he creates."
- Music Design In Review
Forever Young (single) by Shastro - MB 0031 (2022)

This rendition of this classic cover is Shastro's tribute 
to Bob Dylan, an artist who deeply inspired him 
way before his carrier as a New Age composer started, when he was just an 18 years old Italian young man 
playing guitar and basking on the streets of 
Venice and Paris, singing many of Dylan's songs. 
"Well, I have been back in the studio doing something I NEVER thought I would be doing, and that is recording a cover song! First of all I don't consider myself a 'singer' and second this is something sooo different from what I have been doing so far... but maybe just for this reason I felt inspired. To try to record something completely new and different. It was indeed fun and energizing for me and a good excuse to dust off my abandoned recording studio. 
I hope it will bring some joy to you too." 
~ Shastro
WATER (Live) by Shastro & Purana • MB0028 (2019)  
This is the second track (after FIRE) that was recorded during a live music meditation that  I offered - together with my friend Purana - on the day we celebrate Osho's enlightenment. Because of that, the music carries the palpable flavor of gratitude that we have in our hearts. I hope you will enjoy listening to it as much as we enjoyed playing it! May it bring peace and gratitude to your day. Om Shanti. ~ Shastro  
MUSICIANS: 
Shastro: Bansuri Flute, ambient sounds  
Purana: Guitar  
Nishta: Anantara